We're thrilled to host the Indianapolis Chapter of the International Association of Business Communicators (IABC), a long-thriving nonprofit group of more than 100 professionals who are committed to effective communication.
Hoosier communicators gathered at HardingPoorman to hear about Hyper-local news and how we as consumers take action when the message hits close to home, whether a specific neighborhood, school or special interest.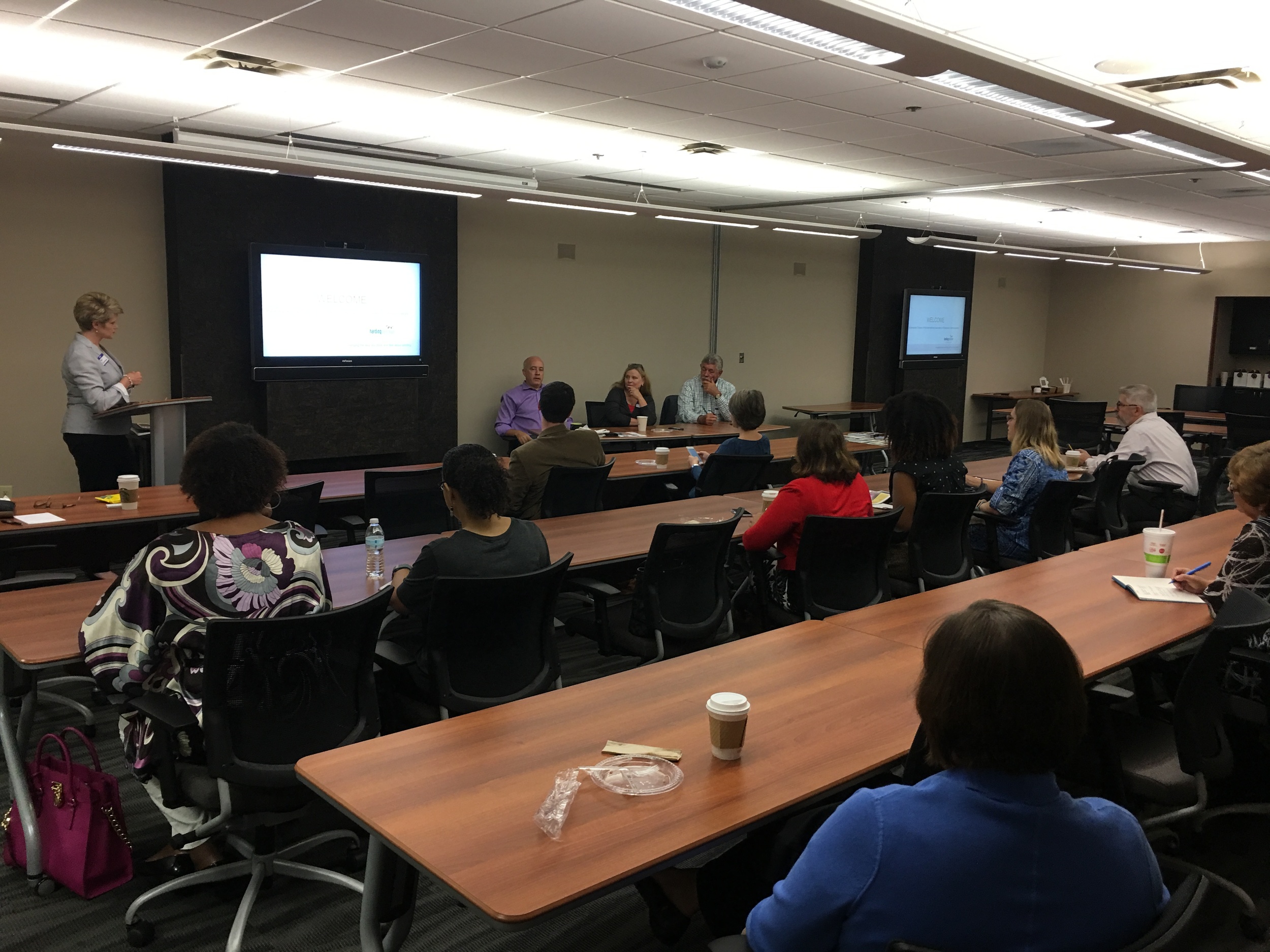 We heard from Hyper-local pros (bios below) who spend each day delivering highly-targeted news to defined geographic and special interest audiences.
Tom Britt
Publisher & Founder
TownePost Network, Inc.
With more than 20 years in the publishing industry and 15 in the Internet, Tom has a unique entrepreneurial background combining print and Internet marketing with the hyper-local publishing concept. Tom is deeply involved in his community and local philanthropy. Perhaps his most notable nonprofit start-up is the Geist Half Marathon which he founded 2007. To date, the Geist Half Marathon has raised over $380,000 for to "promote health and wellness in Geist area schools."
Shannon Cagle Dawson
Multi-media Producer
Inside INdiana Business (IIB) with Gerry Dick
WFYI Public Media
Shannon Cagle Dawson is a multi-media producer for both Inside INdiana Business (IIB) with Gerry Dick and for WFYI Public Media. For IIB she produces TV and web content on business-centered education issues as well as a quarterly sustainable energy e-newsletter in partnership with Energy Systems Network. For WFYI, she produces documentaries and political programming on the TV side; on the radio news side she produces the twice-weekly talk show No Limits, hosted by John Krull. She is also the broadcast producer for the Indiana Debate Commission, as well as having been an adjunct professor of broadcasting at her alma mater of Butler University for over 20 years.
Steve Greenberg
Executive Vice President & Founder
Current Publishing, LLC
Steve Greenberg, executive vice president, and Brian Kelly, president, founded Current Publishing, LLC on Aug. 31, 2006, and launched their first title, Current in Carmel on Oct. 23, 2006. With heavy background on the sales/operations and publishing sides of the industry, respectively, they combine more than 70 years of veteran experience in serving communities with important information and advertising partners with key, targeted messaging.As of today, Current also publishes for Westfield, Noblesville, Fishers, Zionsville and Geist, totaling 123,758 households each Tuesday by U.S. Mail.
To learn about more about IABC and to 'be heard', please visit http://indy.iabc.com.
Thanks again IABC!