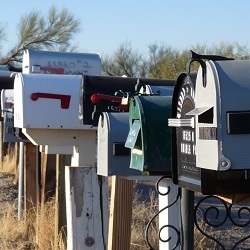 In an age when online social networks have become all the rage in marketing departments of companies of every description, it may come as a bit of a surprise to learn that direct mail campaigns still have an effective role to play in building your bottom line – but it's true.
What many sales managers are also discovering is that today's direct mail techniques incorporate some amazing new developments in printing technology that make this time-tested marketing tool more effective than ever.
Consistent Results
While the new, and constantly changing, internet-based advertising approaches have certainly added to many companies' viability and reach in getting their message across, the simple truth is that direct mail campaigns still deliver actionable marketing tools that social media cannot compete with.
Reliance on internet advertising has become so pervasive in recent years that actual physical mail has become strikingly unique, actually standing-out in an eye-catching ways from the deluge of electronic messages crossing the screens of your average customer today. Direct mail provides your business with potent sales features like:
Precise targeting – mailings can be customized for specific recipients
Personalized – addressing each recipient on an individual basis
Tangible – giving the recipient something to touch & feel adds to credibility
This format also gives you a wide range of creative options that allow for versatile approaches to different marketing initiatives. These include everything from post cards to sales brochures that are cost-effective, and can easily be tweaked to compliment whatever online measures being employed.
The Added Benefits of Commercial Printing
Perhaps the best-kept secret about modern direct mail marketing is the revolutionary impact of the many advanced printing techniques that can now be applied to whatever tangible item you choose as a vehicle for your campaign.
In addition to traditional offset methods, modern commercial printing employs both digital and ultraviolet technologies that bring new levels of accuracy, speed, and versatility to the production of direct mail materials. Also, UV quality is now so striking that recipients tend to hold onto these items. And UV printing is a green technology which uses quick drying techniques that virtually eliminate the release of chemicals into the air.
Today's commercial printing goes beyond these features, though, to give direct mail campaigns a host of attractive characteristics that work together to create a powerful, cost-efficient production and delivery system. These include:
Sorting and addressing – utilizing advanced computer systems that rapidly and automatically collate and address material, routing items through specific, cost-reducing post offices.
Direct printing – utilizes digital data that guides printing directly onto material – rather than using labels – which further reduces costs and enhancing accuracy.
Mailing lists – today's top of the line commercial printers can accommodate your existing mailing lists, or even offer you access to a wide range of lists they maintain – carefully focused on the exact market population you're seeking to reach.
Campaign specificity – cutting edge commercial printers allow you to create a direct mail package with as many variables as you wish. They provide sales departments with online shopping cart systems which enable you to construct marketing kits that include everything from small materials, wide-format products, to trade-show items.
Assisted delivery – taking advantage of big, well-maintained warehouses, commercial printers assist clients by integrating the printing process with delivery mechanisms that get the correct item to the right person – and give you online control of the entire process.
Thanks to modern commercial printing, the age of direct mail marketing is not only still viable – but perhaps more so now, than ever.